Welcome to our website!
Click here to see the Spring 2017 EZ Reader Newsletter
Didn't get your EZ Reader?! Fill out this form to ensure we have a good mailing address for you.

[November 28th 2017]
The Chapter is nearing the end of the fall semester and it has been a great one: homecoming was fun and successful, 2 active brothers were elected to UND IFC positions including the president office, our High Pi won the UND Outstanding Greek Alumnus Award, the Chapter won the UND awards for Excellence in Leadership Development, Excellence in Academics, and overall Outstanding Chapter and 17 new brothers were initiated!
Alumni debt elimination surge fundraising campaign is making great progress - now at ~$33k out of the $75k goal! More here.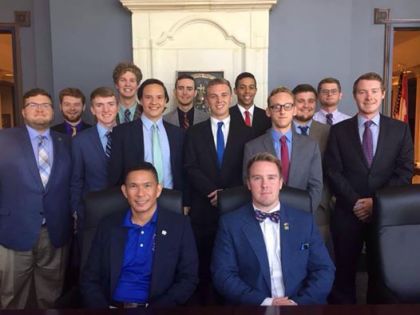 Undergrad brother Erik Hanson was selected for the 2017-2018 LCA HQ Student Advisory Committee.