Welcome to our website!
Click here to see the Spring 2015 EZ Reader Newsletter
Didn't get your EZ Reader?! Filll out this form to ensure we have a good mailing address for you.

[October 6th 2015]
The active chapter collected of 8,000 pounds of food last week during its annual food drive! All of this food will be donated to a local food bank. Check out the news coverage here.
Homecoming week has arrived! Here are the details of on-goings for the chapter and alumni for the weekend.
Saturday October 10's Homecoming banquet at the Ralph is nearly upon us! Over 85 alumni, plus their guests, have already registered for the event. Registration and guest list is now completely finalized. Please navigate here for more info and details. Check out the GF Herald article from earlier this week on the event here.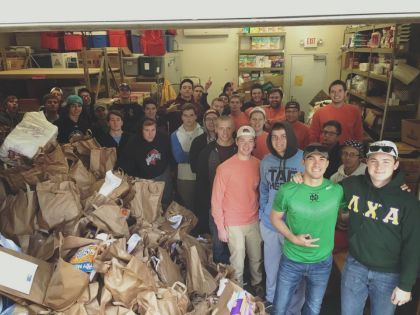 Members at food bank with 2015 Food Drive's 8,000 lbs + of food.