Welcome to our website!
Click here to see the Fall 2014 EZ Reader Newsletter
Didn't get your EZ Reader?! Filll out this form to ensure we have a good mailing address for you.

[April 29th 2015]
Homecoming banquet on Saturday October 10 is less than 6 months away! Please navigate here for more info and details.
Fraternity & Sorority Life at UND awarded Epsilon Zeta's Hunter Stonehouse with April's Fraternity Scholar Holler award. Congrats Hunter! Also, 5 new members are joining our bond this spring!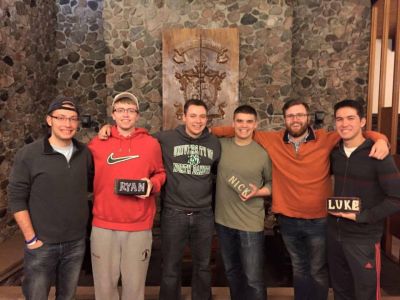 Some new members and their big brothers.