Welcome to our website!
Click here to see the Spring 2017 EZ Reader Newsletter
Didn't get your EZ Reader?! Fill out this form to ensure we have a good mailing address for you.

[June 6th 2017]
After closing the semester strong, including winning UND Greek Week, the undergraduate chapter is now on summer break
Alumni debt elimination surge fundraising campaign is now underway! More here.
The Spring 2017 EZ Reader is now out. Find it here.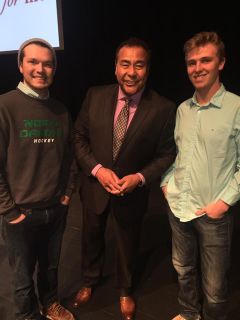 Undergraduate brothers, Erik Hanson, and Talon Schloesser meeting Brother John Quinones.