Welcome to our website!
Click here to see the Spring 2015 EZ Reader Newsletter
Didn't get your EZ Reader?! Filll out this form to ensure we have a good mailing address for you.

Donation Menu here.
[November 21st 2015]
The active chapter held Pre-Initiation and Ritual this last week. We are very happy to welcome our 11 newest brothers to the bond.
The physical chapter house received high marks from HQ's recent property risk managment assessment.
Homecoming week and the huge Rockin' 50's and 50 years at 515 Harvard St. banquet was a success! There were 89 alumni, 42 actives, 10 and associates in attendance. With 131 brothers in total, this was a historic gathering! With guests and associates counted there were 275 attendees. Recap here. Nearly $16k in donations was raised over the weekend. Pics here.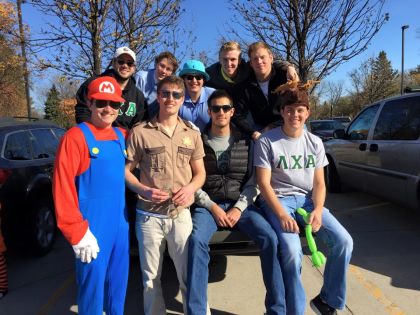 Members volunteering at GF Trunk or Treat.