Welcome to our website!
Click here to see the Spring 2017 EZ Reader Newsletter
Didn't get your EZ Reader?! Fill out this form to ensure we have a good mailing address for you.

[September 2nd 2017]
A new semester is upon us and the chapter is hitting the ground running! Recruitment season is in full effect and we look forward to the start of a lifetime journey for what will become our newest brothers!
The chapter is planning the Homecoming weekend for undergrads and alumni - more on that here.
Alumni debt elimination surge fundraising campaign is making great progress - now at ~$29k out of the $75k goal! More here.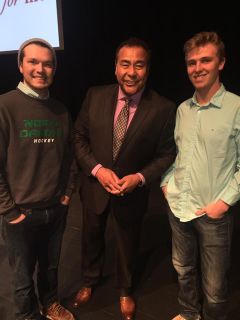 Undergraduate brothers, Erik Hanson, and Talon Schloesser meeting Brother John Quinones.